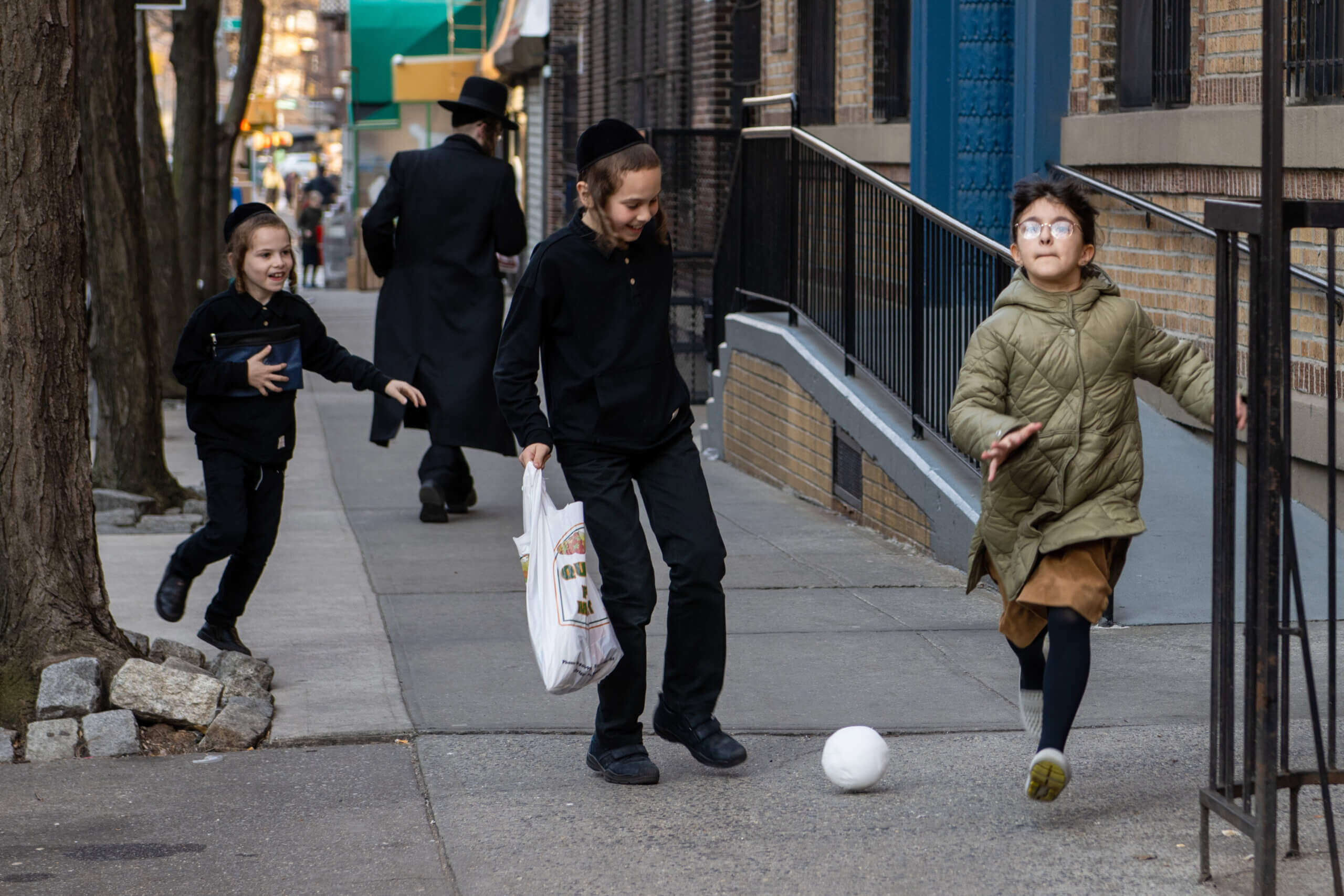 דער אַרטיקל איז אָנגעשריבן אויפֿן חסידישן ייִדיש.
גאט האט געפירט מיינע פוסטריט ביז סעדאנע, אריזאנע, וואס ליגט ווי א שרעקעדיגער סוד פארשטעקט צווישן בראשית׳דיגע עשיו-רויטע מצבות, ווי טורעמעס און שלעסער אויף די שפיץ בערג. אין פארגלייך ליגט דער ישוב מיטן טאל צופוסנט פון די טייוולאנישע פעלזן, באגרינט מיט א לבנון׳דיגן וואלד פון דופטיגע סאסנע ביימער. אויף א מאמענט קען זיך דאכטן ווי א גן עדן וואלט געווען פארפלאנצט אויפן באדן פונעם גיהנום.
שוין ביים קלייבן זיך צו די טויערן פון דער שטאט, האט מיר געכאפט אן אימה: צו איז דאס נישט א לאנד פון די שרעקעדיגע גייסטער וואס מיר האבן געלערנט אין חדר? איז דאס אפשר דאס לאנד עזאזאל וואו מען האט געווארפן דעם יום כיפור ציג? הקיצור, אזא בייז וואונדער קען זיך מיר נישט אדורכלאזן אן קיין לשון קודש׳דיגן נאמען, וויל זיך מיר אויסקלייבן "ארץ אדום".
דורך געשלענגלטע וועגן ווער איך פארשלעפט נאך טיפער אין דעם היגן "לא לא לאנד" ביז איך גרייך א בא׳גדר׳טן שטיק לאנד. דא וואוינען גבירים, יעדער אין זיין עולם החלומות, און אט שטיי איך פאר א פאלאץ צווישן די הויכע סאסנע בוימער. איך רוף עס א פאלאץ, ווייל וויאזוי רבותי זאל איך אנרופן די גאר גרויסע ווילעס נוסח אנקל-סעם וועלעכע גיבן זיך א באזעץ מעשה ברייטע מחותן אויף די טשודנעסטע לאנדשאפטן אינעם מעשה בראשית.
היינט ביי נאכט, צווישן די פעלזן, קומט פאָר א מסיבה, א סארט שאמאנישע וואך-נאכט, אונטער די כוכבים, וואו עס שטייען פארזאמלט כלערליי אוואנטוריסטן, ספיריטואליסטן, און חולמי חלומות, און טאנצן צו די קלאנגען פון די ריטמען. און אויף צומארגנס, שוין צוריק אין דער ווילע, נאך א נאכט אפ׳עבודה-זרה׳ען, איז געקומען אויפן געדאנק פון דער פלוני חברה׳מאן מיינער צו כאפן א שחרית אויפן ברייטן גאניק פון דער ווילע – וועלעכער קוקט ארויס צו אן עולם ומלואה פון ריין שגעון היצירה – און גע׳שחרית׳ט האט ער מיט אזעלעכע צעקות אז די קדמוניות׳דיגע רויטע געצן ארום האבן א טרייסל געטאן מיט ציטער.
און ווער וואוינט עס דא אין דער געמיטליכער ווילע? אן אלטע אידענע. זי איז דאס די בעל־הביתטע פונעם שטיק לאנד וועלכע הענגט צווישן די רויט און גרין ווי בין שמים לארץ. און איך פארזינג א שטיקל חזנות, ווייל דא צווישן די פעלזן ווער איז דען א גרעסערע חזן ווי מיר? נאך דעם לאזן מיר זיך אריין אין א שמועסל.
די אידענע האט א בכבודיק לעבן הינטער זיך. ווי א יונג אמעריקאנער אידיש מיידל אין די יארן נאכן חורבן האט זי וואלונטירט צו פארן קיין דייטשלאנד בכדי צו העלפן די לעבן געבליבענע אויפֿבויען דאס לעבן פון דאס ניי. זי וויל דערציילן מער, אבער דא קומט אריין קארלא, איר שווארצע באהעלפערקע. זי איז אויפגעוואקסן נישט מער און נישט ווייניגער נאר אין ברוקלין, צווישן חסידישע משפחות, און זי האט ליב צו ריידן — און זי האט טאקע וואס צו דערציילן.
שוין נעכטן נאכט זאגט מיר דער פרינץ, ד״ה דער בכור פון דער פאלאץ-באזיצערין: "ווארט נאר ביז דו טרעפֿסט מארגן דער מוטערס העלפערקע דא, זי איז ווי עס זאל זיך דיר נישט דאכטן, א ברוקלינערין, און, וויי האט זי צו זינגען און צו זאגן…"
און אט איז זי דא, די העלפֿערקע, און אז זי עפנט א מויל, גייט עס ווי מצה וואסער, טאקע ווי א ברוקלינערין, אז איך וואלט זיך געקענט שווערן אז איר קאפ געפינט זיך גארנישט דאהי אין דער מחוץ-לעולם׳דיקער סעדאנא, נאר כולו איינגעטונקען אין דעם הו הא פון דער אלטער היים — ברוקלין.
אויפגעוואקסן איז זי טאקע אין וויליאמסבורג, אויף בעדפארד, ארומגערינגלט מיט חסידים. און אייגענטליך איז איר לעבן אויך געווען ווי א האלבע חסידיסטע. פונקט ווי מע זעט ביי די חסידים איז קארלא איינס פון פופצן קינדער, און אז זי ליידט איין א געשוויסטער צו זיך אין סעדאנא — זאגט זי מיר — וועט יענער מיטברענגען נאך דריי־פיר געשוויסטער, ווי א באנדע, נוסח היימיש ברוקלין.
און אט אזוי בערך איז געגאנגען אונדזער שמועס:
קארלא: די חסידים מיט די לאנגע ראקן און שווארצע הוטן זענען ביי מיר געווען די איינציגסטע עכטע אידן. אז כ׳פלעג זען ערגעץ וואו עמיצן מאדערן געקליידעט וואס האט זיך פארגעשטעלט אלס איד האב איך געמאכט, "ס׳קען נישט זיין, אידן גייען באקליידעט פון קאפ ביז די פיס!"
הער, דאס זענען געווען די איינציגסטע אידן וואס איך האב פון קינדווייז אן געקענט. זייענדיג א קליין קינד אין וויליאמסבורג, פלעג איך שפיעלן מיט די קינדער אין גאס.
איך: צי מיינט איר טאקע אידישע קינדער?
קארלא: יא יא, מיט אידישע! הער זיך צו, קינדער זיינען קינדער. זיי פארשטייען נישט קיין פאליטיק און קיין מעשיות, אז א קינד זעט אן אנדער קינד, שפילט מען זיך צוזאמען. מיר פלעגן שלעפן די פאות פון די אינגלעך און אנטלויפן!
איך: צו וואס האט איר דאס געטון? האט איר זיי געטשעפעט, ווייל זיי זענען אידן?
קארלא: ניין ניין, פשוט זיך צו שפילן. נישט געזארגט, אויך זיי פלעגן אונז טשעפענען און אנטלויפן, אזוי אהין און צוריק, אזוי איז די ברוקלינער וועג פון זיך שפילן!
איך בין אמאל נאכגעלאפן א אינגל וואס האט מיך געטשעפעט און כ׳בין אריינגעלאפן אין דער ישיבה אים כאפן. דער מנהל האט מיך געזען אין ארויסגעשיקט. "מיידלעך און פרויען קענען נישט אריינקומען אין דעם בילדינג," האט ער אויסגערופן.
איך: וויאזוי האט איר פערזענליך געפילט כלפי די חסידים, וואוינענדיג צווישן זיי? איך רעד וועגן זייער היימישקייט, געמיינזאמשאפט, זייערע ווירבלדיגע פרייטאגן, זייערע שבתים, געזעלשאפטליכקייט?
קארלא: יא, ס'איז געווען פיין און וואויל. איך בין אבער נישט מסכים מיט דעם וויאזוי זיי דריקן אויף דער יוגנט; זיי לאזן די קינדער נישט אטעמען. איך האלט אז ס׳נישט געזונט צו לעבן אזא געדריקט לעבן. מענטשן זענען מענטשן, מיר האבן אלע א יצר. וויל עמיצער טאן אביסל אנדערש מאכט מען יענעם פאר א מאנסטער. מ׳באלאָדנט די קינדער מיט פחדים וועגן גיהנום און כל מיני שרעקעדיגע מעשיות. אויך ביי אונז אין קירכע שרעקט מען אן מיט אייביגן גיהנום טאמער טוט מען נישט וואס די קירכע פאדערט, אפילו מען וויל נאר טוישן פון די קאטוילישע קירכע צו א פראטעסטאנטישע קירכע, כאטש ביידע גלייבן אין זעלבן יויזל.
איך: אבער מיסעס, טאמער וויל א געזעלשאפט האלטן איר כאראקטער אין א שטאט ווי ניו יארק אָן אמעריקאניזירט ווערן, האט מען נישט קיין ברירה; מען מוז אננעמען שטרענגע מיטלען. ווייל הייבט איינער אן זיך טוישן, הייבט זיך אלץ אן צו צעפאלן.
קארלא: ניין, איך האלט מ׳קען האלטן א געזעלשאפט אן די בייזע פחדים, און אז איינער וויל זיין אנדערש, לאזט יענעם לעבן! קענסט נישט נעמען א מענטש און אים איינשפארן!
איך קען פערזענליך א פרוי, האט זי געטוישט איר לעבנסשטייגער און די אייגענע משפחה רודפט זי אויס די יארן, מען לאזט זי נישט זען אירע אייגענע קינדער. כ׳וועל דיר זאגן, סייווי העלפט עס א מכה. ווייסט איר וויפיל חסידים זינדיגן אפ אין די נעכט?
איך: האט איר פערזענליך בייגעוואוינט ווי חסידים זינדיגן?
קארלא: וואס רעדט איר? איך האב עס בייגעוואוינט איינמאל און נאכאמאל, איך האב געהאט "פרענדס" צווישן די חסידים אין ברוקלין.
איך: דו מיינסט חברטארינס – פריינדינעס?
קארלא: חברטארינס און "חברים", כא כא כא! פארשטייט זיך די "חברים" זענען געווען אונטערן טיש. זיי זענען געווען אביסל "קריפּי" – אומלייטיש, אבער שוין…
איך: און פון וואנען קומען צו אייך, א נישט אידישע מיידל, חסידישע חברים?
קארלא: אזוי, זארגט אייך נישט פאר די חברה, זיי זענען נישט אזעלעכע פארמאכטע מעגעלעך ווי מען וויל זיי מאכן. ווער עס וויל כאפן א האצקע טרעפט דעם וועג.
מיר פלעגן גיין צו אן ארט ביים ים וואס מען רופט "פייער איילאנד". דארט קען מען צוקומען בלויז מיט א שיף, אן ארט וואו גבירים האצקענען, און די "פייגעלעך" אויך, אבער פאר די חסידים איז עס געווען אן ארט מחוץ זייער סביבה וואו קיינער קען זיי נישט און וואו מען קען זיך אביסעלע אויסציען די ביינער.
איך אליין ווייס פון אזויפיל חסידים וועלעכע לעבן א טאפלט לעבן. פאראן גענוג אזעלעכע וועלעכע האבן א גוטן שם, פאר דער משפחה שטעלן זיי אן א שיין פנים, און אין די נעכט גייען זיי צו "סטריפ קלאבס". וויפיל מענער האבן מיך געבעטן בסוד סודות כ׳זאל זיי געבן אפאר "טיפס" (עצות) וויאזוי מען גייט ארויס אין דער וועלט, כאפן א זינדיג?!
אויך אין אנדערע אספעקטן פונעם אידישקייט, אזויווי שבת. למשל איך האב געארבעט פאר א חסיד, אפיציעל האט ער געשלאסן דאס געשעפט ווען מע בלאזט דעם שופר אבער מיר האט ער אנגעזאגט צו פירן ווייטער די ביזנעס אפילו במשך פונעם שבת.
איך: מיטן שופר מיינט איר די סירענע, וואס פייפט אין וויליאמסבורג איידער ס׳ווערט שבת?
קארלא: יא יא, גענוי דאס! דער שבת סירענע מיין איך!
אפילו ביי די ערליכע, זע איך אז זיי נעמען נישט ערנסט די תורה געבאטן, מען שפילט זיך ארום. למשל, מען פלעגט מיך רופן אנצינדן דעם אויוון אום שבת, אדער די עלעקטרע.
איך: איין מינוט, מיסעס, ס׳איז דא א באגריף אין הלכה אז מע מעג הייסן א גוי טון א מלאכה לצורך דעם איד אין א נויטפאל כל זמן מען זאגט עס אומדירעקט, למשל מ׳זאגט: "דער אויוון איז אויסגעלאשן און מיר האבן נישט וואס צו עסן מארגן," און דער נישט-איד פארשטייט וואס מע דארף טון.
קארלא: א נעכטיגער טאג, מ׳פלעגט מיר זאגן דירעקט: "מיסעס, צינד מיר אן די עלעקטרע, דריי מיר אן דעם אויוון! און וואס איז מיט די שבת עלעוועיטארס? איך פארשטיי דאס נישט, היטסטו שבת צי נישט?!"
איך: און וואס זאגט איר כלפי דער זיכערהייט אינעם געגנט, דאס וואס צווישן חסידים שפירט זיך א מענטש "סייף" (זיכער), וואס מיינט דאס פאר אייך?
קארלא: אמת, ס׳שפירט זיך מיר "סייף", און דאס איז ווייל איך בין אינדערהיים, איך ווייס וואו איך געפין זיך, דא וואוינט א שוועסטער, דארט — נאך א שוועסטער, דא איז דער קלויסטער און דא איז מיין געוועלב!
איך: וואס נאך? אז איך וואלט אייך געבעטן שאצן די חסידים פון איינס ביז צען, וואס שייך זיכערהייט, וואס פאר א שאצונג וואלט איר זיי געגעבן?
קארלא: ערגעץ אינצווישן, לאמיר זאגן פינף.
איך: אזוי? אבער איר מוזט מודה זיין, חסידים אטאקירן נישט, נישטא קיין געוואלד טאטן און אנפאלן צווישן זיי.
קארלא: אָ יע, מיר דארפסטו נישט דערציילן. גוט, זיי אטאקירן טאקע נישט סתם פרעמדע דורכגייער, אבער זיי קאמאנדעווען יא ארום און פייפן זיך אויס אויפן געזעץ. למשל, איך געדענק ווי זיי האבן ארויסגעשלעפט א פאליציאנט פון זיין קאר און אים אנגעבראכן די ביינער און מען האט קיינעם נישט געקענט באשולדיגן ווייל אלע זעען זיי אויס די זעלבע מיט די קאפעלוטשן און פעלץ-הוטן. חוץ מזה, אטאקירן זיי איינער דעם צווייטן צוליב קנאה־שנאה.
איך: איז וואס זאגט איר צו זייער פחד פון די שכנים, ס׳הייסט, פון דער דרויסענדיגער וועלט, און זייער שטעלונג אז "אינדרויסן" צווישן נישט-אידן איז נישט זיכער?
קארלא: יא יא, איך ווייס פון דעם, אזוי האלט מען דעם עולם פארשפארט אינעם סיסטעם. איך וועל דיר זאגן א סוד, אויך צווישן אונז שווארצע האט מען דערציילט שרעקעדיגע מעשיות וועגן "די אנדערע" – פרעמדע, און טאקע צוליב דער זעלבער סיבה, עס זאל נישט כאפן איינעם דעם חשק אוועקצוגיין זוכן דרויסענדיגע גליקן. זע, איך בין די איינציגסטע אין מיין משפחה וואס האט פארלאזט ניו יארק און געקומען אהער קיין סעדאנא, און מע רופט מיך שוין די גאנצע אויבער-חכם׳טע אין די משפחה.
איך: נאָך איין זאַך — אז איר קענט שוין יא דעם גאנצן קרעמל, וואס זאגט איר וועגן דעם חילוק צווישן וויליאמסבורג און בארא פארק?
קארלא: די וויליאמסבורגער קומען מיר פאר מער שטעטלדיק – מער אלטמאדיש, זיי האלטן אז זיי זענען מער טראדיציאנאל. די בארא פארקער ווידער האלטן אז זיי זענען מער פארגעשריטן און שטאלצירן דערמיט, אבער זיי פארגעסן צומאל אז אין די אויגן פון א דרויסענדיגן זענען ביידע שטעטלדיגע.
The post As a child she played with Hasidic boys, even though she wasn't Jewish appeared first on The Forward.
Advertisements - Advertising at The News And Times - advertising-newsandtimes.com | WE CONNECT!