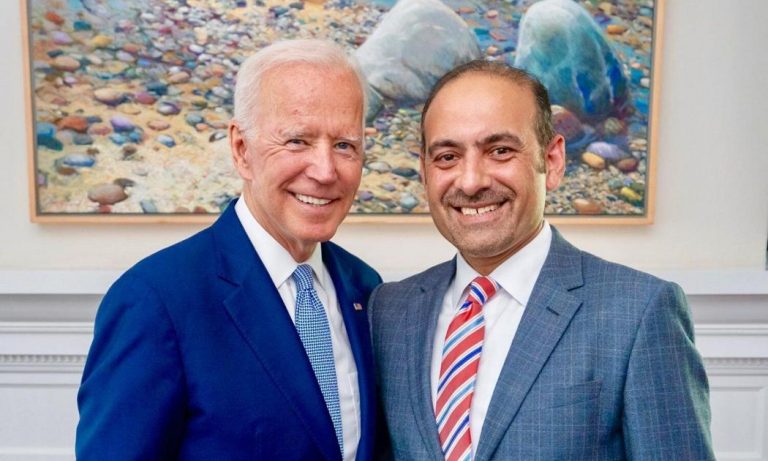 The Biden administration will renominate a board member at an anti-Israel group to help lead the Small Business Administration, one year after the nominee was blocked by Republicans, according to the Wall Street Journal.
Dilawar Syed served on the board of Emgage Action—a group that describes Israel as an "apartheid state" and defends the anti-Israel Boycott, Divestment, and Sanctions movement—until at least 2021, when President Joe Biden nominated him as deputy administrator at the SBA, according to federal disclosure records.
Syed is one of 85 failed nominees whom the Biden administration is resubmitting for confirmation by the new Senate, the Journal reported on Tuesday.
Syed's affiliation with Emgage raised concerns among Republican legislators and pro-Israel leaders, who blocked his nomination in September 2021. Since last February, Syed has served as a special representative for trade at the State Department, a position that doesn't require Senate approval.
Emgage has accused the Jewish state of instituting a "racist, undemocratic Israeli apartheid rule that steals [Palestinian] land and destroys their homes to make way for illegal Jewish settlements" and said it "support[s] the right to boycott, divest, and sanction, as well as the Right of Return of Palestinians."
The group also lobbied against legislation that would penalize boycotts of the Jewish state and called the BDS movement a "constitutionally protected nonviolent response that seeks to end the occupation."
Syed told legislators during his unsuccessful confirmation process that he doesn't support the BDS movement. But Republicans questioned his affiliation with Emgage and his refusal to commit to recovering $100 million in federal COVID relief funding that they say was illegally distributed to abortion provider Planned Parenthood.
Tom Jones, the founder of the American Accountability Foundation watchdog group, told the Washington Free Beacon in September 2021 that Syed's involvement with Emgage, "paired with his lack of a commitment to recover PPP funds illegally allocated to Planned Parenthood, should immediately disqualify him as deputy administrator of the Small Business Administration."
Other failed Biden administration picks who will be renominated include former Los Angeles mayor Eric Garcetti as ambassador to India and Danny Werfel as IRS commissioner, according to the Journal.
The post Biden Renominates Board Member at Anti-Israel Group to Small Business Administration appeared first on Washington Free Beacon.