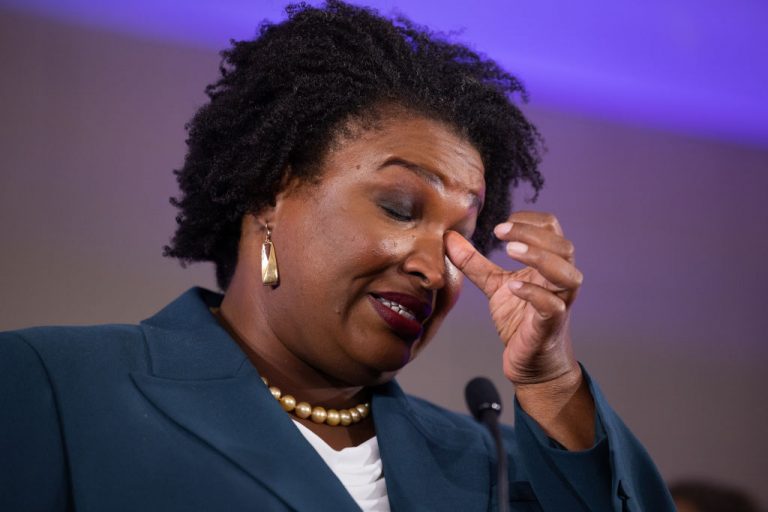 A federal judge on Tuesday ordered Stacey Abrams's Fair Fight Action to pay over $200,000 to reimburse the state of Georgia for legal fees related to a spurious lawsuit that claimed Gov. Brian Kemp (R.) stole the 2018 gubernatorial election.
Abrams founded the group after losing to then-secretary of state Kemp, who she claimed used his position to disenfranchise minority voters in the lead-up to the election. A federal judge in late September ruled against Fair Fight Action on all counts following a four-year legal battle, saying the group provided no direct evidence that Georgia voters struggled to vote in the election.
Fair Fight Action must repay $192,628.85 in transcription fees and $38,674.86 in copying costs that Georgia incurred in defending itself against the group's lawsuit, according to a bill of costs submitted Tuesday by the U.S. District Court for the Northern District of Georgia.
Georgia secretary of state Brad Raffensberger (R.) hailed the order as a win for the state's taxpayers and voters.
"Stacey Abrams's voter suppression claims were false. It has never been easier to vote and harder to cheat in the state of Georgia," Raffensberger said in a statement. "This is a start, but I think Stacey Abrams should pay back the millions of taxpayer dollars the state was forced to spend to disprove her false claims."
Fair Fight Action's finances came under scrutiny in October after Politico revealed the group doled out $9.4 million in legal fees to a law firm run by Allegra Lawrence-Hardy, a close friend of Abrams and the chairwoman of her failed 2018 and 2022 gubernatorial bids. The group spent more than $25 million on legal fees in 2019 and 2020, the bulk of which went toward its failed Georgia lawsuit.
Ethics watchdogs said that Fair Fight Action spent a "shocking" amount on the case and that the close relationship between Abrams and Lawrence-Hardy raises conflict-of-interest concerns.
"Fair Fight Action ought to explain why this lawsuit cost so much," said Washington University in St. Louis legal ethics professor Kathleen Clark. "I think there are significant questions about this choice of firm and just why this lawsuit was so much more expensive."
Fair Fight Action isn't the only Abrams-linked group accused of financial impropriety.
The New Georgia Project, which Abrams founded in 2013, dismissed half its leadership team in late October because of a lack of funds after raising nearly $25 million in 2020. A former senior executive at the New Georgia Project told the Washington Free Beacon that the group's chief financial officer was fired in June 2022 after saying he couldn't do his job without violating the law.
The New Georgia Project is nearly two months late in filing its IRS Form 990 financial disclosure, which would shed light on its financial activities in 2021. The group's charitable solicitation license has expired in at least 17 states due to its lack of required financial transparency, and the liberal states of Washington and Colorado have ordered the charity to cease all in-state fundraising activities.
Abrams's 2022 gubernatorial campaign also squandered its $113 million fundraising haul. Her campaign and leadership committee can't afford to pay its employees, has less than $100,000 cash on hand, and owes a combined $1.42 million in debt, campaign finance reports released Monday show. The Abrams campaign exhausted its funds on frivolities such as rent for a TikTok "hype house" in Atlanta and a "swag truck" to distribute Abrams gear to young voters.
Abrams on Monday teased a third run for public office, telling talk show host Drew Barrymore, "I will likely run again."
Fair Fight Action did not return a request for comment.
The post Federal Judge Orders Stacey Abrams Group To Reimburse Georgia $230K for Spurious Election Lawsuit appeared first on Washington Free Beacon.