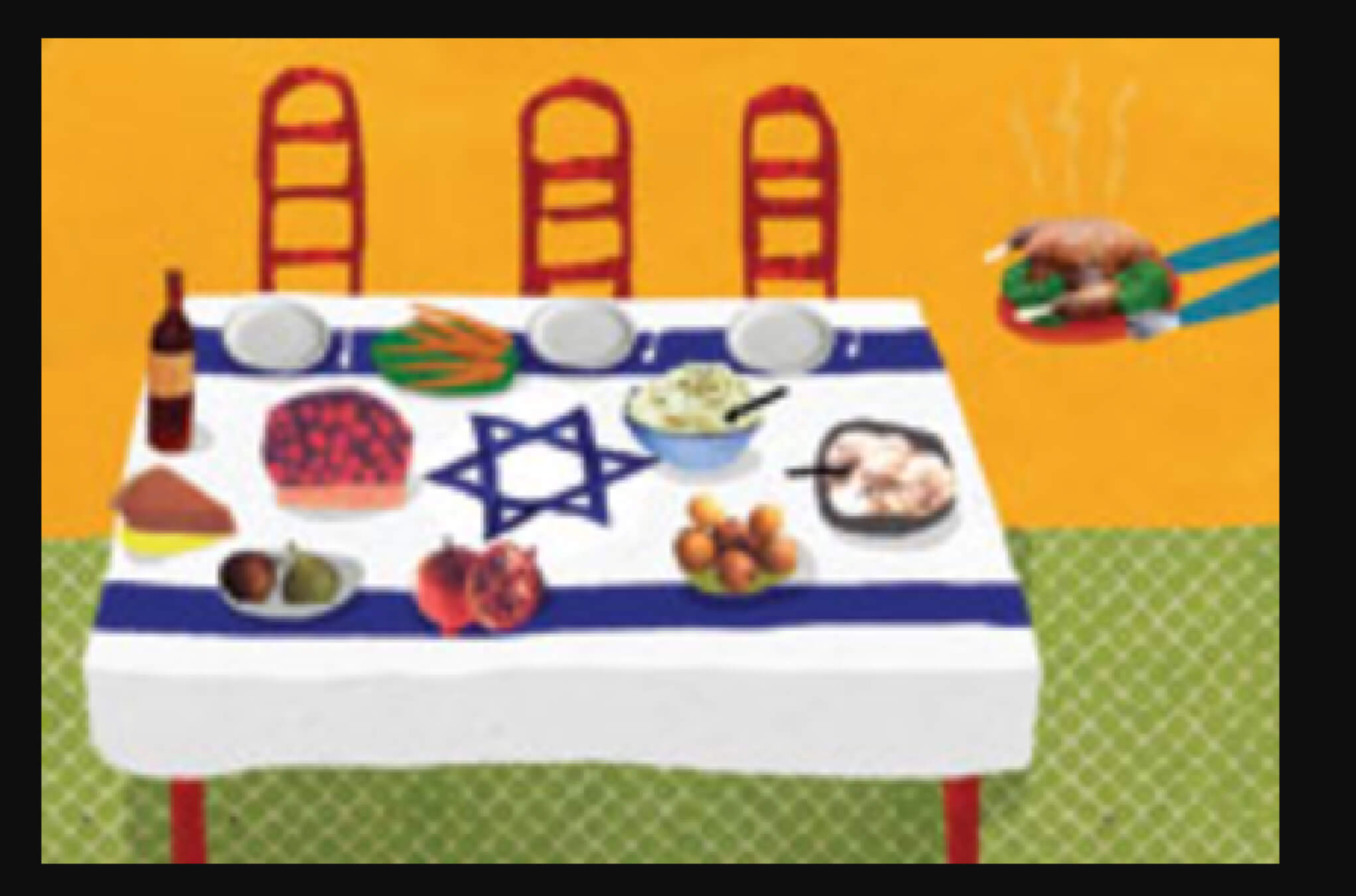 Every mid-November, I stroll over to the kosher butcher shop to order a fresh turkey. I'll pick up the bird the following week, just before Thanksgiving.
Ho-hum, an American reader might say. But celebrating Thanksgiving in Israel, where locals know not of the holiday, presents challenges absent in the United States. Take the first time I hosted Thanksgiving dinner here. No frozen turkeys presented themselves in a supermarket meat department's display cases. I asked where the turkeys were, and an employee pointed toward a counter. Only cellophane-wrapped turkey legs and turkey wings reposed there.
"Not parts — whole turkeys," I said.
The clerk presented the blankest of stares.
"A whole turkey?" came the disbelieving utterance, as if I'd asked about buying a whole sheep or cow.
Thus, the annual visit to an honest-to-goodness butcher shop, where Valeri the counterman grabs his pad and pencil to add me to the scribbled names and phone numbers of other Americans who'd placed holiday orders.
The experience remains perplexing to this immigrant. Turkey is hardly exotic game in Israel, where one of the most popular sandwiches has long been shawarma: meat shavings from a vertical rotisserie that's ubiquitous at falafel stands across the country and scooped into pita bread, to be joined there by salad and saucy toppings. Almost all shawarma is turkey meat. And while pastrami in the United States is inevitably beef, in Israel it's bound to be turkey.
Indeed, after chicken, turkey is Israelis' most-consumed meat or poultry, with nearly 8 million gobbling creatures raised for slaughter annually, said Moti Elkabetz, the general manager of Israel's Egg and Poultry Board.
Elkabetz, an egg farmer at a moshav — an agricultural settlement similar to a kibbutz — in the north, knows about Thanksgiving because his son used to live in the United States. And he's well aware that Americans buy whole turkeys throughout the year, not only in November.
As to Israelis, he knows he's up against a cultural block.
"A whole turkey? Mah pit'om," Elkabetz said, using an expression meaning "No way."
It's not like Israelis refrain from making a whole turkey because it's too large to be consumed. Israelis are family-oriented and think nothing of gathering the extended clan for Shabbat dinners; a turkey could be polished off in one meal, no question. 
But Elkabetz thinks that Israelis' Friday-night routines work against preparing an entire bird, whereas U.S. families' living farther apart means that convening for a festive meal is rare enough as to call for a special food — turkey. 
Then there's the oven factor. Howard Kaplan points out that built-in wall units in Israel tend to be small. The Zichron Yaakov resident, who with his wife Roberta moved from Baltimore five years ago, can squeeze in a 15-pound bird only by placing it directly on their oven's bottommost shelf, and even that is thanks to the shelf being an inch deep to collect drippings. No roasting pan, no extra shelf to simultaneously cook side dishes. A turkey — that's it.
"There's not much room" in the oven, he said, "but it's doable."
While challenges abound in buying turkeys here, at least we know they'll be kosher.
The sides
Fortunately, fresh green beans, yams and sweet potatoes — even marshmallows — are plentiful in Israel year-round. But the bags of frozen cranberries sold in the Old Country are seldom available. (I don't do canned cranberry sauce, which can be purchased in some neighborhoods where clusters of American immigrants live.) An American friend suggested buying dried cranberries, which are easily found, and cooking them to make cranberry sauce.
My late Grandma Rozzie would surely chuckle at exerting effort to locate turkey and cranberries. She lived for 21 years in Portugal, once writing to me: "Can you believe a country that does not have cottage cheese or sour cream?"
She and my grandfather would go to Lisbon's American Women's Club for their Thanksgiving dinner, which always featured turkey and all the trimmings — a word that also makes its sole annual appearance on the fourth Thursday of November.
But some American immigrants in Israel instead delay Thanksgiving celebrations until Friday night.
"It's easier for everyone to get together [on Friday]," said Mindi Leshem, an Arizona native who's lived in Israel since 1981 and usually hosts 30 people for Thanksgiving. "It's less important to celebrate exactly on the day. It makes no difference, as long as you have the turkey, stuffing, cranberry sauce and mashed potatoes."
For me, Thanksgiving must be on a Thursday. Convening at 6 p.m. — cocktail hour of hot apple cider with rum and cinnamon sticks, then a buffet-style dinner — gives guests enough time to come after work or leave their desks just a bit early. The Kaplans start at 4 so everyone can watch the Macy's Thanksgiving Day Parade together, live.
When Kaplan picked up his turkey last year, a Muslim clerk passed it over from behind the counter.
With the traditional Jewish wish for a good holiday, she said, "Chag sameach."
In Israel, he remarked the other day, "nothing much shocks me anymore."
The post Israelis like turkey. So why is Thanksgiving such a challenge here? appeared first on The Forward.