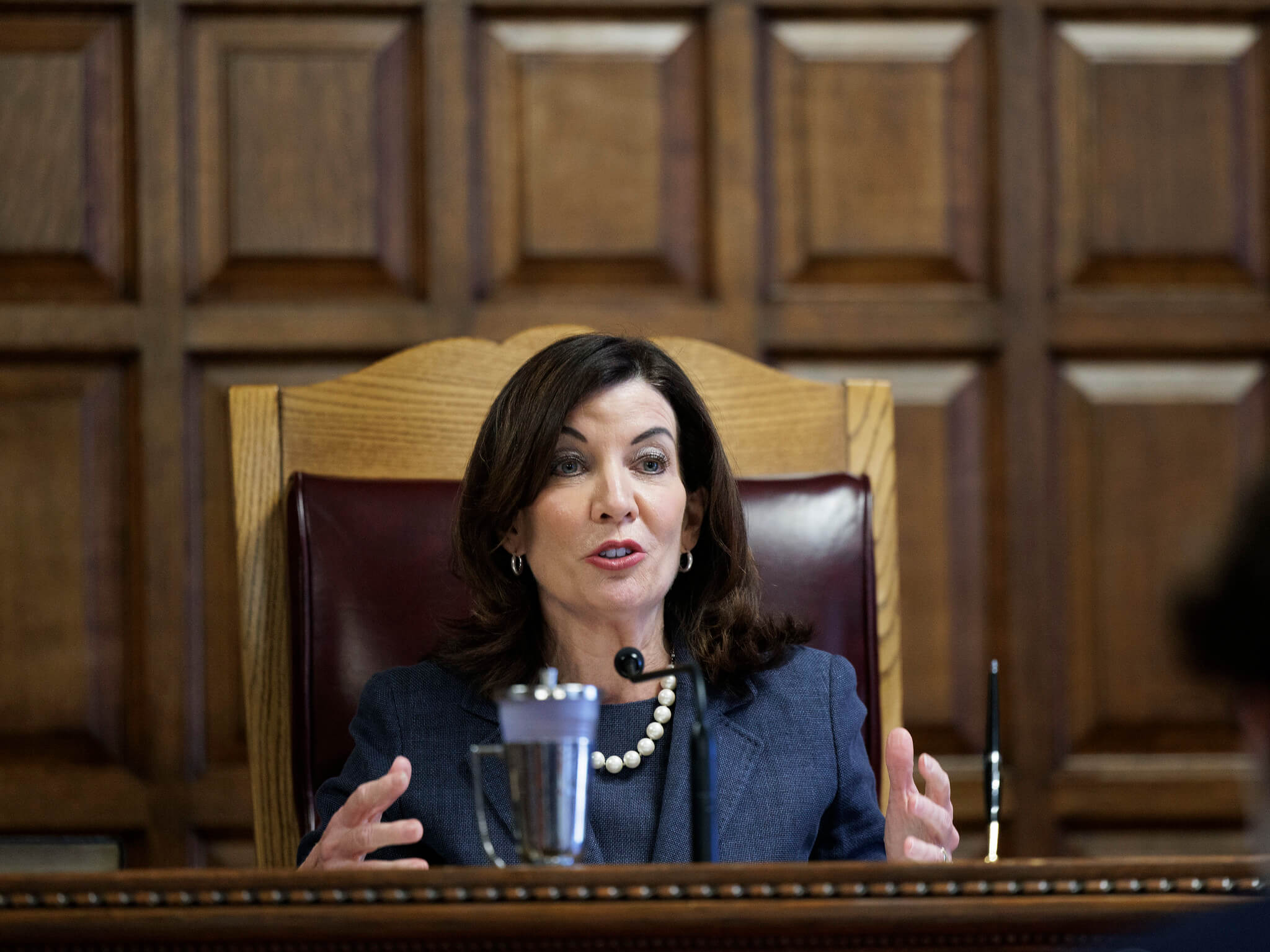 A group of Jewish lawyers has issued a letter of support for Judge Hector LaSalle, New York Gov. Kathy Hochul's nominee for the highest court in the state. The confirmation faces roadblocks in the Democratic-controlled NY Senate. 
The letter, sent on Monday and obtained by the Forward, comes as opposition grows against LaSalle, the presiding justice of the state's Supreme Court's Second Department who was nominated last month for chief judge of New York's Court of Appeals, over his past conservative-leaning decisions. If confirmed, LaSalle would become the first Latino chief judge. 
"With racism and antisemitism on the rise, it is particularly significant that our leaders exemplify the highest standards of diversity, equality, inclusion and belonging," reads the letter signed by members of the Jewish Bar Association in Westchester, Rockland, Orange, Dutchess and Putnam counties. 
Critics have mounted a grassroots campaign against LaSalle, saying he is anti-abortion and anti-union.
Progressives have pointed to LaSalle's 2017 ruling to quash a subpoena for documents by the state attorney general in an investigation into fraudulent medical clinics run by anti-abortion crisis pregnancy centers. In 2015, LaSalle joined a majority ruling allowing a defamation lawsuit by an employer against union leaders.
The nomination requires the approval of a majority of the 63-member legislature, if it advances to the floor by the Senate Judiciary Committee. At least 14 of the 42 Democratic members have expressed their opposition to the pick and none of the 21 Republicans have indicated they would vote in favor. According to the state constitution, the state Senate must accept or reject the nomination by Jan. 22, 30 days after the appointment was announced. A hearing has yet to be scheduled. 
LaSalle was one of seven candidates recommended by the Commission on Judicial Nomination to succeed Janet DiFiore, a former Republican prosecutor who resigned in July amid an ethics probe. One of members of the shortlist included Yale Law School Professor Abbe Gluck, who served as special counsel for the Biden Administration's COVID-19 response team and previously clerked for Supreme Court Justice Ruth Bader Ginsburg.
The Jewish bar association, known as the Justice Brandeis Law Society, implored legislators to confirm LaSalle, calling him "uniquely and exceptionally equipped" for the position as chief judge.
The post Jewish attorneys implore NY legislature to confirm Hochul's top court pick amid stiff opposition appeared first on The Forward.