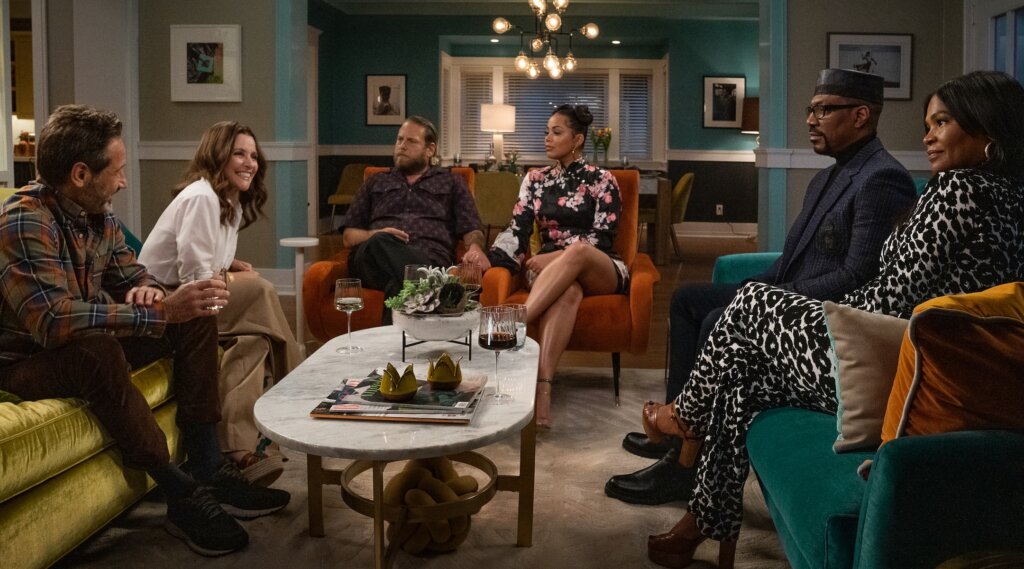 (JTA) – Were Jews the "OG slaves"? Can American slavery be compared to the Holocaust? And who gets the last word on Louis Farrakhan?
These questions have spurred very serious debates over time — and now will be getting a raunchier take in the new Netflix comedy "You People" that hits streaming Jan. 27. 
Starring Jewish funnyman Jonah Hill, who also co-wrote the script with "Black-ish" creator Kenya Barris, the film stars a visibly tattooed Hill as Ezra, a young Jewish man who falls in love with Amira, a Black woman played by "Without Remorse" actress Lauren London.
In a new trailer for the movie that opens with a scene shot at the Skirball Cultural Center, a Jewish institution in Los Angeles, Hill's Jewish parents, played by Julia Louis-Dreyfus and David Duchovny, seem to immediately bless the union following some awkward comments about hair and rappers.
It's Amira's parents, Akbar and Fatima (played by Eddie Murphy and Nia Long), who prove a tougher sell — particularly once Akbar, who says he identifies as "Muslim," tells them he is a follower of Nation of Islam leader Louis Farrakhan, whose antisemitism is longstanding and well known.
"Are you familiar with the minister's work?" Murphy asks Louis-Dreyfus. "I'm familiar with what he said about the Jews!" she replies.
Other awkward moments abound in the trailer, including a dinner-table argument about comparing slavery to the Holocaust. ("Our people came here with nothing like everybody else," says Louis-Dreyfus's character, to cringes.) It's all in a day's work for Barris, whose series of sitcoms are known for prompting uncomfortable conversations about race and culture, and who — in the recent aftermath of antisemitism controversies involving Kanye West, Kyrie Irving and Dave Chappelle — has picked quite the moment for a "Guess Who's Coming To Dinner"-style comedy about Black-Jewish relations. 
An earlier trailer for "You People," featuring only Hill and Murphy, had made no references to the film's Jewish content. The new trailer's density of Jewish jokes is sure to fuel an ongoing debate over "Jewface," or whether it is appropriate for non-Jewish actors to be cast as Jewish characters. While Hill is Jewish – the star recently petitioned to drop his legal last name, Feldstein, because he has never used it professionally — his on-screen parents are not. But Duchovny and Louis-Dreyfus do have Jewish fathers, as does London.
This article originally appeared on JTA.org.
The post In Netflix's 'You People,' Jonah Hill is a Jewish guy who finds love with a Farrakhan follower's daughter appeared first on The Forward.