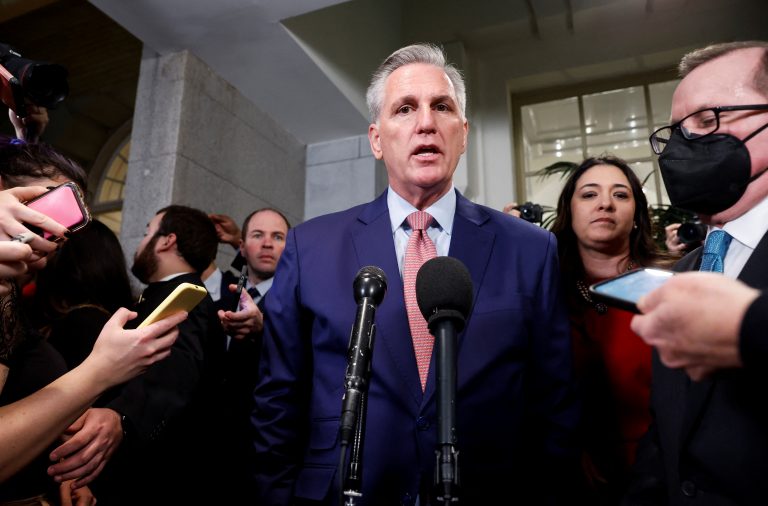 By David Morgan
WASHINGTON (Reuters)—Republican Kevin McCarthy was in danger of losing the first vote for speaker of the U.S. House of Representatives on Tuesday, as at least seven hard-line conservatives in his own party voted against him, leaving their new majority in turmoil.
Voting continued on the House floor. But in what could prove to be a brutal fight between hardliners and the majority of House Republicans, McCarthy looked set to fall short of the 218 votes needed for the speakership. It was the first time in a century that the House had not elected a speaker on the first vote.
McCarthy was vying for the speakership against conservative Republican rival, Representative Andy Biggs, and House Democratic leader Hakeem Jeffries.
Republicans won a narrow 222-212 majority in November's midterm election, meaning that McCarthy — or any candidate for speaker — will need to unify a fractious caucus to win the gavel.
Before the vote, McCarthy tried to persuade the holdouts in at closed-door party meeting, vowing to stay in the race until he gets the necessary votes, but many participants emerged from the gathering undaunted.
A protracted speaker election could undermine House Republican hopes of moving forward quickly on legislative priorities involving the economy, U.S. energy independence and border security.
Tuesday's vote marked the first time in 100 years that a nominee has not succeeded to the House speakership on the first ballot. The record number of voting rounds to elect a House speaker is 133 over a two-month period in the 1850s.
(Reporting by David Morgan, additional reporting by Richard Cowan, Gram Slattery and Moira Warburton; Editing by Scott Malone and Alistair Bell)
The post Republican McCarthy Set to Lose First Vote for House Speakership appeared first on Washington Free Beacon.