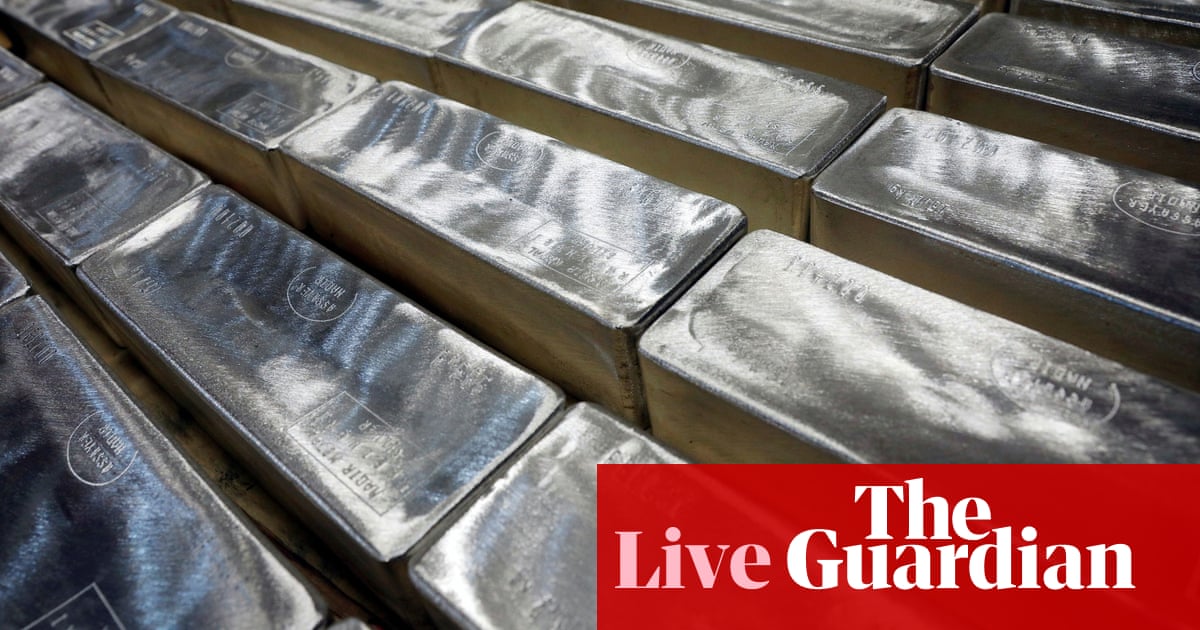 Rolling coverage of the latest economic and financial news
7.40am GMT
Good morning, and welcome to our rolling coverage of the world economy, the financial markets, the eurozone and business.
Having blasted GameSpot's shares dramatically higher in the last week, some of the new wave of retail traders shaking up Wall Street have another target — silver.
#Silver starts week 7% higher.#silversqueeze pic.twitter.com/SZec9fEkxP
Wow.
The 37.05m increase in the number of shares of the iShares Silver Trust on Friday was the biggest one-day increase since the ETF started trading in April 2006. pic.twitter.com/lTC2oxYsuL
Like the GameStop situation, there's a back-story to the attempted pumping over silver prices: angered by the perception of a manipulated market for paper silver, the traders are looking squeeze the shorts on the silver market, and force correction in price that, so the argument goes, better reflects the supply and demand of the underlying commodity.
With a large physical off-exchange market, and a lot more liquidity theoretically, then the sparely traded stocks dallied with so far, the retail wolf pack is in dangerous waters.
The wolves of Wall Street may well be luring them into a trap in their Bunker Hunt for Reddit October.
Interesting from Goldman re the WSB risk: 'In recent years elevated crowding, low turnover, and high concentration have been consistent patterns, boosting the risk that one fund's unwind could snowball through the market.'
This too: last week 'represented the largest active hedge fund de-grossing since February 2009 … despite this active deleveraging , hedge fund net and gross exposures on a mark-to-market basis both remain close to the highest levels on record' pic.twitter.com/wUtAuuc5pK
Related: France and Germany threaten AstraZeneca over vaccine shortage
European Opening Calls:#FTSE 6424 +0.26%#DAX 13543 +0.82%#CAC 5440 +0.75%#AEX 642 +0.71%#MIB 21724 +0.70%#IBEX 7813 +0.71%#OMX 1957 +0.41%#STOXX 3511 +0.84%#IGOpeningCall
Aust Jan manufacturing PMI +3.2pts to a strong 55.3, similar to Markit PMI at 57.2.
Gains were broad based.
(Goldman Sachs chart) pic.twitter.com/eJTHM36mcY