National Wake was a band, a movement and a revolution — and within four years, it was just a memory.
Formed in Johannesburg, South Africa, in the late 1970s, National Wake blended punk, funk and reggae, but its most subversive act was bringing together Black and white musicians who lived together, jammed together and played to mixed crowds in defiance of apartheid. By 1981, they'd released one album, which sold 700 copies before the label withdrew it due to government and police pressure. By 1982, they had parted ways.
Filmmaker and journalist Mirissa Neff discovered National Wake — comprised in its final lineup of Jewish Johannesburg native Ivan Kadey, Steve Moni and brothers Punka and Gary Khoza, from Soweto — in the documentary Punk in Africa. Watching the Super 8 footage of their concerts shattered her perception of South Africa in the apartheid era.
"To see it just blew me away," Neff, whose first feature film, This Is National Wake, is having its New York premiere at the New York Jewish Film Festival Jan. 14. "To see this band getting up on stage together in that environment, to see their multiracial group of fans dancing together, flirting with one another. It just seemed so incredible and vibrant and rebellious."
This Is National Wake is a celebration, and sometimes an elegy, propelled by music, archival footage and interviews with those who remember when one band dared to call for change. 
I spoke with Neff about the band's significance, approaching filmmaking like a DJ and how an accountant smuggled the music out of Africa and onto the British airwaves. The following conversation has been edited for length and clarity.
How unique was National Wake — were they the only multiracial band at the time, or were they an early one?
There were other  contemporaries of theirs that were making other kinds of music in a more dogmatic way, where the point of the band was to make a statement. Johnny Clegg and Juluka is kind of the most well known group of that time that was mixed race. But I think in terms of the medium of rock, the medium of punk, National Wake was singular for that moment. I feel like they came together in this very organic way that was unusual too for that moment. [Original band member] Mike Lebese was this very unusual figure who just kind of didn't abide by the laws of apartheid and he wandered into this white commune house in the university zone and befriended Ivan and they started jamming. And then he was like, "Hey, I have some friends from Soweto that I want to introduce you to — I want to make a band. Here are some guys." Of course they were aware of how defiant it was for them to play together and live together and get up on stage together. But I think National Wake came together as organically as possible within the confines of that environment.
That's actually really surprising. Punk seems made for this kind of a thing!
There were virtuosic musicians in this band, so to just call them a punk band, musically it's not necessarily totally the right term because they were fusing together all kinds of music and influences from all over the world. But I do think in terms of attitude, what could be more punk than National Wake?
They coined this term, "Gunk Rock," to describe what they were playing. How do you see the music, lyrically, musically, aligning with the politics?
They were very political. And in fact the label was so scared of their lyrics. [BBC radio DJ] John Peel mentions that Warner Elektra Atlantic, they were so nervous about the lyrics in the song "International News" that they told them that they couldn't print the lyrics, and the band already had their liner note artworks laid out and put together with those lyrics, so their protest was just blacking that out. On the original album, there's this weird area in the liner notes that's just black where the lyrics should be.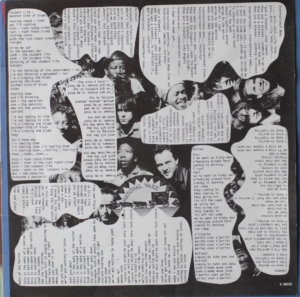 The original (uncensored) lyrics for "International News" from the liner notes to a limited WEA Records pressing. The band's South African label dubbed the lyrics too political. The band responded by blacking them out. Photo by Mirissa Neff
So you knew you were coming into all this great Super 8 footage that you saw in this other documentary. Was there more you found? Did the people shooting it know what they were documenting?
I think there was an awareness of what they were documenting and I think there was some kind of intention to make some kind of film at the time, but it never happened. Essentially an hour of the footage had been digitized for use in Punk in Africa. And there were many more Super 8 reels that hadn't been digitized and hadn't been looked at in years. I think there was in total another two hours' worth of footage. 
But I had to connect with a lot of other archives to give historical context. The John Peel piece … I had heard that he had played their music on his show. And I reached out to the BBC and they didn't have the recording, they pointed me toward their written archive an hour outside of London. I went through all the John Peel's playlists from 1981. Finally I get to October, I'm nodding off at the microfilm machine. And a couple days in I opened my eyes and there's National Wake staring right back at me I'm like, "Oh, OK, so this did happen. I wasn't told a lie!" But I still didn't have the tape. And I had no idea of how I would get it. Finally I was able to track down this guy who is a British accountant who'd been sent to South Africa on assignment and fell in with National Wake, became this huge fan of theirs, and then when he was on his way back to the UK, he smuggled two of their records, kept one, got the other to John Peel. That's how it was played on John Peel. That's step one.
Wow. It's like the Pentagon Papers.
Step two is that he recorded that show on cassette, kept the cassette for 40 years. And when I finally reached out to him, he's like, "Oh, yeah, of course I have the recording of that show." I'm like, "What! I've been searching for this for years! I have to go to the UK immediately to record this  on high quality, digitize this." Anyway, that was a high moment of the process.
It was always really of vital importance to me to amplify the voices of the Black members of the band as much as I possibly could. I'm of mixed racial heritage, which is, I think, in part why I was so drawn to this story. My father's Jewish, my mom's from Barbados. I identify as African American. It presents a huge challenge when [the Black members of the band] are deceased and died several years before I started the project. I tried to bring in the people from Soweto that were closest to them and closest to the band and kind of serve as proxies but also I was trying to seek out archival material of them outside of this moment with National Wake. I finally was able to connect with the Irish musicians that Punka worked with later in his life and got that audio of him talking on Irish radio in 1994. We never get to hear Gary's voice but we do see that piano solo of him, that improvisational, incredible piece that he plays [that was filmed] right at the end of his life. I feel like that just brings Gary to life and lets him communicate in a way that is really vital for the film.
This is screening for a Jewish Film Festival and follows the guitarist and singer, Ivan Kadey, who's Jewish. How do you see that as playing into this story?
Ivan's heritage is Lithuanian, Ashkenazi, and like he mentions in the film, the vast majority of Jews in South Africa are Lithuanian Jews. His family escaped in the early 20th century. He grew up in the Jewish Quarter of Johannesburg. I think that kind of gave him a certain empathy. I think a lot of Jews landed in South Africa, I don't think that they were considered white to begin with. They were othered as well. So it's not surprising that he ended up  creating a project like National Wake with the Khoza brothers. It makes complete sense to me.
In a lot of ways, this is really about something that had momentum that was really shut down by various factors, the biggest one being the government having it out for them. We see Ivan keeping the memory alive. What is their legacy in South Africa? 
Honestly, I think it's kind of limited, in part because South Africa, my impression has always been that it's not a very nostalgic society. With good reason, because there's such a painful history there. I feel like it's a very forward-facing society. I haven't screened the film in South Africa yet. In the UK people who were part of that scene and emigrated came out and were just verklempt, it brought them right back to something that they'd kind of put behind them. It'll also be amazing to introduce it to  younger South Africans and have them experience this band.
The music's so great and you hear a lot of it. How did you find the balance between historical context, the personal story and threading the music through?
I'm a DJ! I'm part of the  MTV,  music video generation. I think that's in part how my brain works, and I did edit the film along with Doug Lenox. But I'm definitely drawn to a kind of music video editing style for sure. And the music kind of comes first for me, and I guess that that comes through in that there's a lot of music in the film. I wanted it to be a lean story that had rollicking music.
This Is National Wake is playing as part of the New York Jewish Film Festival, Jan. 14, with a Q&A with director Mirissa Neff. More information and tickets can be found here.
The post How a Black and Jewish punk band defied South African apartheid — and how it came undone appeared first on The Forward.