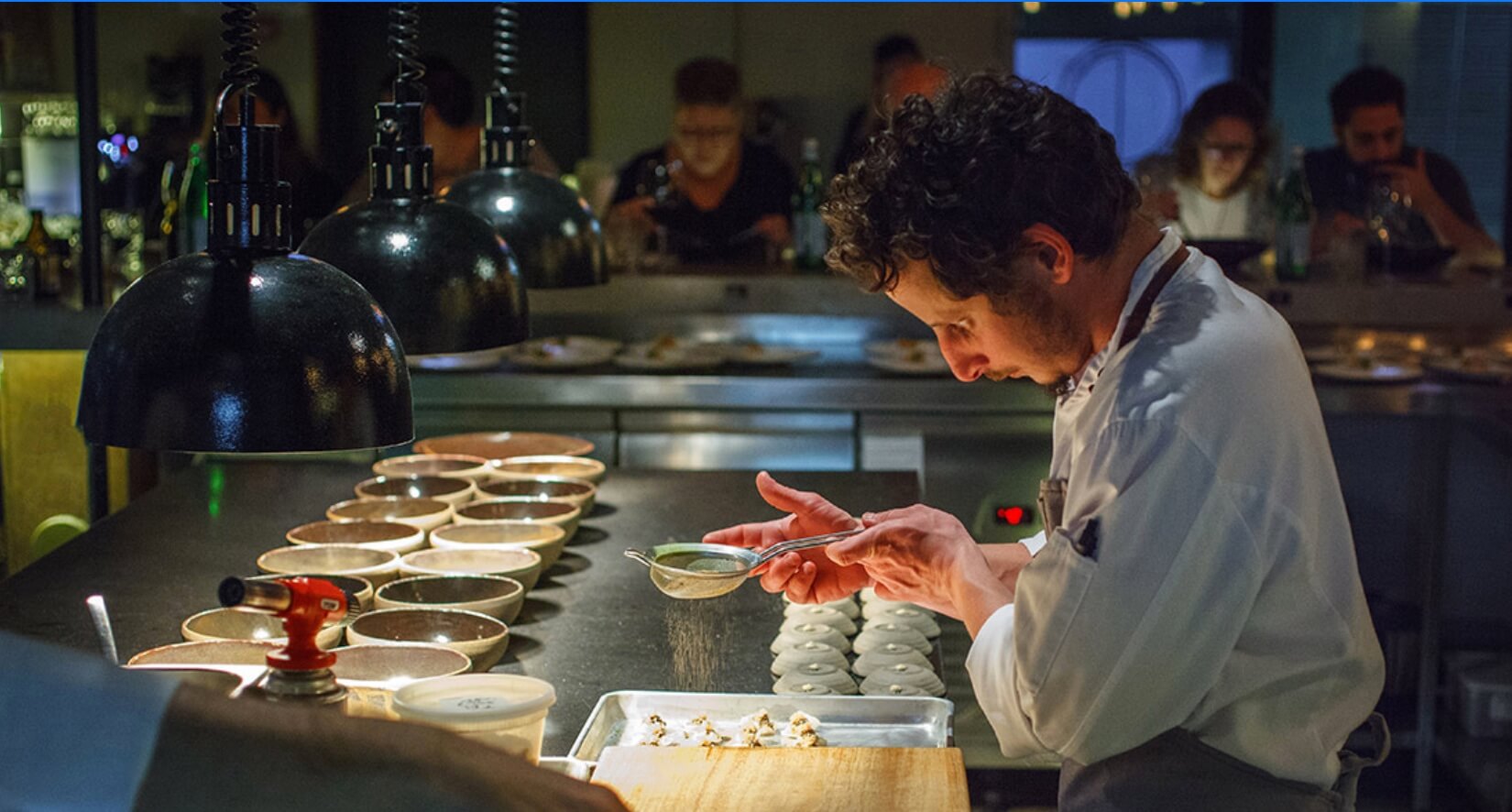 Tidbits is a weekly feature of easy news briefs in Yiddish that you can listen to or read, or both!
If you read the articles and don't know a word, just click on it and the translation appears. You'll also find the link to the article in English after each news brief.
Listen to the report here:
הערט די "טשיקאַוועסן" אויף אוידיאָ דאָ:
https://forward.com/wp-content/uploads/2023/01/New-Recording-47.m4a
אַ פֿאַרמעסט — די "ישׂראלדיקע קיך־פּרעמיעס" — וואָס אָנערקענט די בעסטע שעפֿן, רעסטאָראַנען און מאכלים אין דער ייִדישער מדינה האָט די פֿאַרגאַנגענע וואָך געמאָלדן די הײַיאָריקע געווינערס.
דעם פּריז פֿאַרן בעסטן שעף האָט מען געגעבן די קאָך־שותּפֿים אַסף גרניט (גראַניט) און אורי נבֿון (נאַוואָן), פֿונעם רעסטאָראַן "מחנה יהודה" אין ירושלים.
גרניט און נבֿון פֿאַרמאָגן זעקס אַנדערע רעסטאָראַנען אין ירושלים, ווי אויך אין לאָנדאָן, בערלין און פּאַריז.
דעם פּריז פֿאַרן בעסטן רעסטאָראַן אין ישׂראל האָט באַקומען OCD, אין תּל־אָבֿיבֿ, וווּ דער שעף רז רחבֿ (רז ראַכאַוו) פֿירט צונויף אַשכּנזישע, ספֿרדישע און מיטל־מיזרחדיקע קולינאַרע טראַדיציעס, ניצנדיק אָרטיקע אינגרעדיענטן. צווישן זײַנע פּאָפּולערסטע מאכלים: קאַליפֿיאָר־לאַטקעס און קאַשע־קאָקאָשעס.
רחבֿ איז אויך באַקאַנט פֿאַר זײַנע שעפֿערישע מיטלען בײַם צוציִען קונים. יעדן אָוונט, למשל, איז נישטאָ קיין מעניו וווּ מע קען אויסקלײַבן וואָס מע וויל. יעדער קונה באַצאָלט דעם זעלבן פּרײַז גלײַך ווען ער קומט אַרײַן און די סאַרווערס טיילן אויס די זעלבע 19 פֿאָרשפּײַזן צו יעדן קונה.
"מיר מוטיקן אונדזערע קונים אַרײַנצוקומען מיט אַ גרייטקייט צו פֿאַרזוכן נײַע זאַכן," שטייט אויף דער וועבזײַט פֿונעם רעסטאָראַן. מענטשן וואָס האָבן געוויסע באַגרענעצונגען בײַם עסן ווי למשל טראָגעדיקע פֿרויען, וועגעטאַריער, וועגאַנער און מענטשן וואָס היטן כּשרות, דאַרפֿן פֿון פֿריִער לאָזן וויסן דעם רעסטאָראַן וועגן זייערע באַגרענעצונגען אויב זיי ווילן מע זאָל דאָס נעמען אין אַכט בײַם צוגרייטן דעם מעניו.
די פּרעמיע פֿאַרן בעסטן כּשרן רעסטאָראַן האָט מען געגעבן "פּסקדו" (פּעסקאַדאָ), אין אַשדוד, וווּ דער שעף יחי זינו און דער פֿישער ערן זנו גרייטן צו מאכלים מיט רויען פֿיש אויף אַ שעפֿערישן אופֿן. איין מאכל זייערס וואָס איז שטאַרק געלויבט געוואָרן איז סאַשימי באַגלייט מיט תחינה און גרינער ציבעלע.
•
ד״ר יעקבֿ זאַקס, אַן אָפּטיקער אין סאַוטפֿילד, מישיגען, טוט עפּעס וואָס איז הײַנט זעלטן: ער באַהאַנדלט זײַנע פּאַציענטן בײַ זיי אין דער היים — אַ גרויסע מעלה פֿאַר עלטערע לײַט וואָס קענען נישט אַרויס פֿון שטוב.
אַן אָפּטיקער באַהאַנדלט אויגן־קראַנקייטן און פּראָבלעמען מיט דער ראיה און העלפֿט צופּאַסן ברילן פֿאַר מענטשן וואָס דאַרפֿן דאָס.
ווען ער איז לעצטנס געקומען צו אַ 94־יאָריקער פֿרוי אַהיים צו באַקוקן אירע אויגן איז זי געווען אין אַ שווערן מצבֿ. זי האָט תּמיד ליב געהאַט צו לייענען אָבער די ראיה בײַ איר האָט זיך שוין אַזוי אָפּגעשוואַכט אַז זי האָט מער נישט געקענט לייענען און איז פּשוט געזעסן גאַנצע טעג אין איר באַליבטן פֿאָטעל.
נאָכן מאַכן איר עטלעכע ראיה־טעסטן האָט ער באַשטעלט ברילן פֿאַר איר און איצט קען זי שוין ווידער לייענען.
דער אײַנפֿאַל צו באַהאַנדלען מענטשן בײַ זיי אין שטוב איז געווען זײַן טאַטנס. אין 1994 האָט ד״ר יואל זאַקס, אויך אַן אָפּטיקער, באַמערקט אַז אַ טייל פֿון זײַנע לאַנגיאָריקע פּאַציענטן האָבן אויפֿגעהערט קומען צו אים אין ביוראָ. ווען ער האָט זיי אָנגעקלונגען האָבן אַ טייל געזאָגט: "איך האָב געליטן פֿון אַ מוח־אַטאַק, קען איך מער נישט אַרויס פֿון שטוב" אָדער "איך קען קוים גיין די טעג." האָט ד״ר זאַקס באַשלאָסן, אַז ער וועט פֿאָרן צו זיי.
זינט דעמאָלט האָט יואל זאַקס עולה געווען קיין ישׂראל מיט זײַן פֿרוי. זײַן זון מאַכט ווײַטער די שטוב־וויזיטן. ער קאָנטראָלירט נישט בלויז די ראיה פֿון די פּאַציענטן אָבער פֿאָרשט אויך צי זיי לײַדן נישט אפֿשר פֿון געוויסע אויגן־קראַנקייטן וואָס קענען בלינד מאַכן אַ מענטשן. "אַ סך מענטשן ווייסן נישט אַז זיי לײַדן פֿון אַזאַ קראַנקייט ביז ס׳איז שוין צו שפּעט," האָט זאַקס געזאָגט.
לויט די עקספּערטן דאַרף יעדער איינער וואָס איז עלטער פֿון 65 יאָר אַלט באַקומען אַן אויגן־באַטראַכטונג יעדעס יאָר.
The post Tidbits: Kasha popcorn gets Israel Kitchen Award • This optometrist makes house calls appeared first on The Forward.