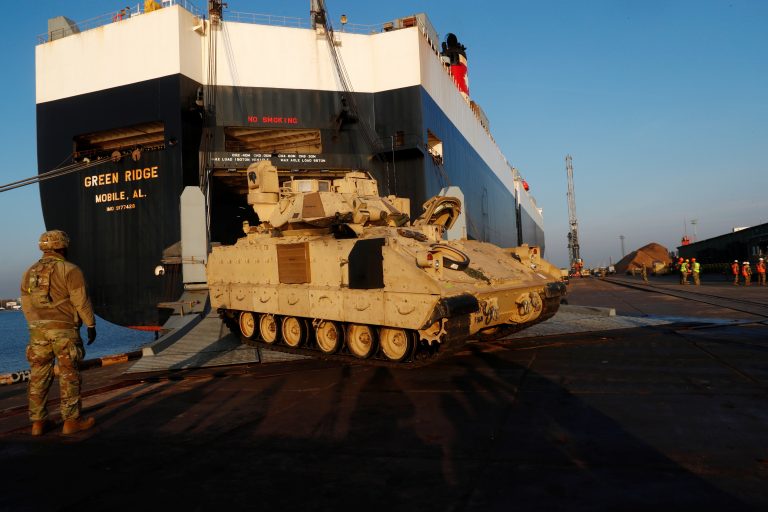 By Mike Stone and Steve Holland
WASHINGTON (Reuters)—A new U.S. weapons package for Ukraine will include about 50 Bradley Fighting Vehicles, two U.S. officials said on Thursday.
On Wednesday President Joe Biden said that sending Bradley Fighting Vehicles to Ukraine was being considered to help fight Russia's invasion.
The latest security package for Ukraine is expected to be unveiled on Friday, the officials said.
The armored vehicle with a powerful gun, which is manufactured by BAE Systems Plc, has been used as a staple by the U.S. Army to carry troops around battlefields since the mid-1980s.
The Army has thousands of Bradleys, which could give the Ukrainians more firepower on the battlefield. Biden's move, however, is short of sending Abrams tanks to Ukraine, which the Ukrainians have been requesting.
Late last month, Ukrainian President Volodymyr Zelenskiy told the U.S. Congress that the tens of billions of dollars of aid it had approved to help Ukraine combat the Russian invasion was not charity, but an investment in global security.
The United States has sent about $21.3 billion in security assistance to Kyiv as Europe's biggest land conflict since 1945 grinds on, killing tens of thousands. The size of Friday's security aid package was not immediately clear.
The White House did not immediately respond to a request for comment.
The United States has increasingly sent more capable weapons to Ukraine. As the war progressed and Ukraine's needs changed, more complex weapons systems, including High Mobility Artillery Rocket Systems (HIMARS) and National Advanced Surface-to-Air Missile Systems (NASAMS), were shipped to Kiyv.
Most recently, the United States pledged to send a Patriot missile system to repel Russian missile and drone attacks. Training and other logistics still need to be worked out.
The Army is working to retire its Bradley fleet, and is working with industry to build a replacement as it seeks to modernize.
(Reporting By Steve Holland and Mike Stone; Editing by Leslie Adler)
The post US to Send 50 Armored Combat Vehicles to Ukraine appeared first on Washington Free Beacon.