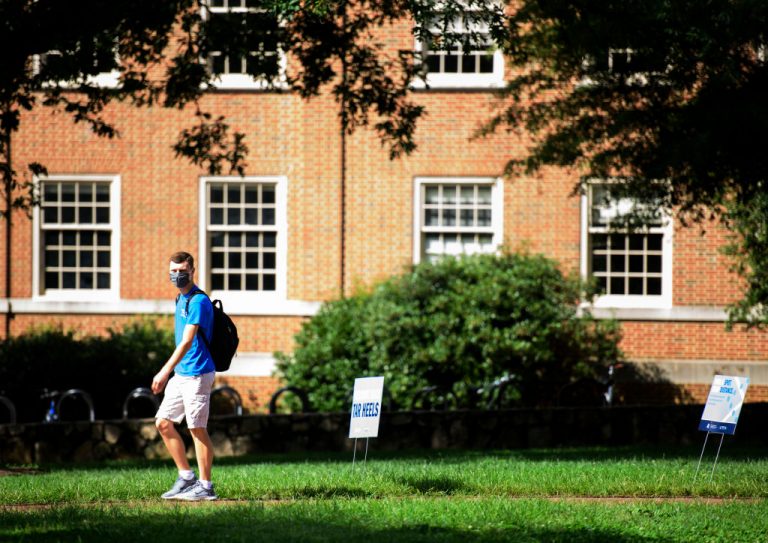 The University of North Carolina at Chapel Hill is facing a discrimination complaint over several racially exclusionary initiatives, just weeks after it was hit with a separate complaint over a minorities-only fellowship program.
The initiatives include three scholarships that are available only to black students, as well as a "Well-Being Initiative for Women Faculty of Color" available only to "BIPOC" women, per the program's website. In August 2022, the university also hosted a "BIPOC New Student Meet and Greet" at its school of public health, which touted the event as an example of "inclusive excellence."
The complaint, filed late last month by the economist Mark Perry with the Department of Education's Office for Civil Rights, argues that these programs violate Title VI and Title IX, the laws that prohibit race- and sex-based discrimination at federally funded institutions. It could spell additional legal headaches for the embattled university, which is awaiting a verdict from the Supreme Court on its affirmative action program.
The scholarship programs may prove a particular liability. Though private donors can offer scholarships based on race, courts have struck down these programs when they are administered by public schools. In a 1994 case, Podberesky v. Kirwan, the Fourth Circuit Court of Appeals ruled that a black-only scholarship at the University of Maryland was unconstitutional. That precedent is binding on UNC Chapel Hill, which is also in the Fourth Circuit.
UNC general counsel Charles Marshall did not respond to a request for comment.
Beyond the brazen embrace of racial preferences, UNC's programs highlight the hyper-therapeutic ethos that has taken hold of academia. The Well-Being Initiative for Women Faculty of Color initiative, sponsored by UNC Chapel Hill's pharmacy department, includes conferences on "selfcare," "goal setting," and "authenticity."  Pitched to professors at "predominantly white institutions," the program will support the "professional success" of "25 BIPOC women" through "wellness and well-being."
An earlier civil rights complaint, also filed by Perry, concerned the university's Fellowship for Exploring Research in Nutrition, which accepted applications exclusively from "BIPOC" students. UNC Chapel Hill scrubbed those criteria 24 hours after Perry filed the complaint—and after a Washington Free Beacon report shed light on it—stating that students of all "underrepresented" backgrounds could apply.
The complaints come as the university is fending off a high-profile lawsuit from Students for Fair Admissions, a nonprofit opposed to affirmative action. Along with Harvard University, also a defendant in the case, UNC Chapel Hill has argued that its race-conscious admissions policies do not violate the Constitution or anti-discrimination law.
The Supreme Court's conservative majority seems poised to reject that argument: At oral arguments in October, Justice Clarence Thomas likened affirmative action to segregation.
The post With Affirmative Action Program Under Scrutiny, UNC Backs Racially Exclusionary Scholarships appeared first on Washington Free Beacon.